Tom Irwin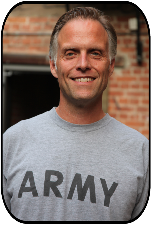 Tom Irwin spent his time in uniform with the US Army's 5th Engineers, and now builds his career as a standup comedian in Los Angeles, and touring all over the world.
Tom was an invited guest performer at the White House (yes, THAT White House), as well as being a mainstay at Hollywood's most famous comedy clubs including the Laugh Factory, and the Ice House.
Although Tom served in the Army during peacetime, his FOUR tours to Iraq to perform for our servicemembers shows his continued dedication to those who continue to serve in the Armed Forces.
Tom also turned one of his nearly month long tours in Iraq into a riveting one man show called "25 Days In Iraq", which he took throughout the country performing to both civilian and military audiences.
Tom Irwin's comedy has been featured on National Public Radio's "Talk of the Nation" and "This American Life".